April 4, 2016
The young lady spotted a big swelling below the left eye and consulted me.
"It is a carnassial tooth abscess - an infection of the 3 roots of the 4th premolar tooth into the sinus. The sinus is near the roots and so get infected and becomes swollen. The treatment is to extract the tooth and drain the pus."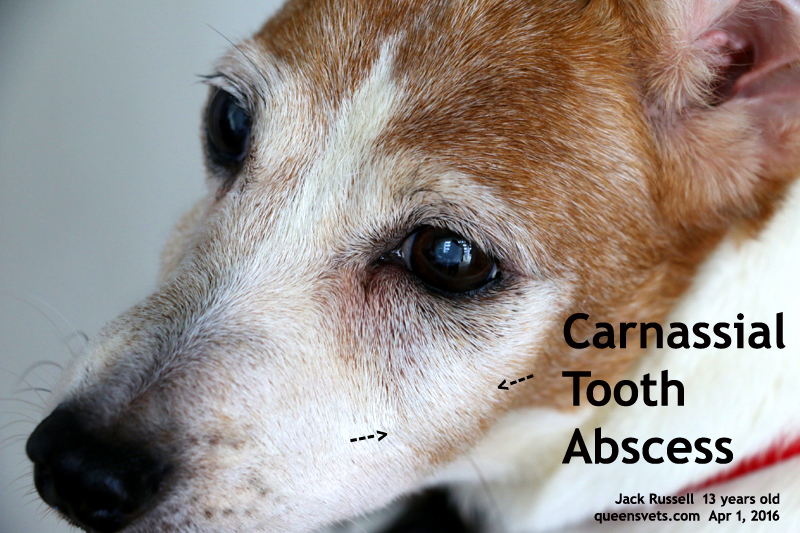 "Can my dog still eat dry kibbles if you pull it out?" she asked.
"He has other teeth. If I don't extract the tooth, he will get recurring swelling of the face below the eye."
Under anaesthesia, the old dog needed minimal gas at 0.5% maintenance unlike young dogs needing 2.5% or they will wake up.
Pus oozed out from the front of the first root out of 3. The roots were still firm as the young lady was observant and detected the swelling early or she must have had done research. So, should I leave the decaying tooth alone as desired by the lady? There will continue to be facial swelling which will rupture under the skin causing an oro-nasal fistula. So, I decided to get the tooth extracted though it is harder to extract the other 2 roots.
I gave the dog an IV drip with painkiller and antibiotics 4 hours before surgery. Domitor + Ketamine IV at 20% normal dosage. Gas isoflurane + O2. Dental work. Then an Antisedan antidote to reverse the sedation of Domitor. He woke up within 2 minutes and went home with one tooth less.
VIDEO
The surprising abnormality from the blood test: Liver and kidneys although creatinine was low at 61 (89-177). However red cell count was 4.8 (5.5 - 8.5). The dog is OK now.
------------------------------
FLASHBACK
June 1, 2014. Right facial swelling below right eye with open wound oozing pus. Carnassial tooth extracted. No more problem till now 2016 when the left facial swelling occurred. So the young lady owner detected similar surgical condition and brought the dog for early treatment.